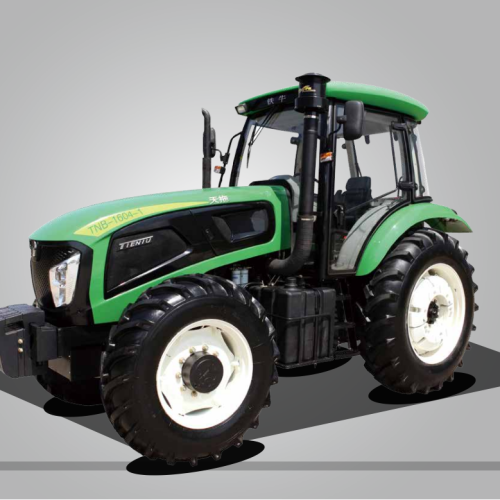 TNC1104 ~ TNC1504 Tractor Agricultural Machinery Farm Equipment Tractor
Item specifics
GREEN

DARK GREEN
IRONMAKE

FOUR WHEEL
SMALL HORSEPOWER

MEDIUM HORSEPOWER
BRAND

Arable Bull/OEM
Description
TNC Series Tractor Product Features
·"TieNiu" brand series of high-horsepower wheeled tractor transmission box and the power output using mesh set shift, solve the problem to take off the block.
·Electrical control system adopts an integrated circuit, small volume, convenient installation, high safety performance.
·Hydraulic caliper brakes, braking effect is stable, energy saving. Gear more, wide speed range, and can satisfy various operation requirements
·Full hydraulic steering device, convenient operation, labor saving. Automatic antiskid differential, good adhesion performance, more gear the power output, supporting a variety of multiple operating machinery, to meet the plough, harrow, rotary tillage, subsoiling, sowing, harvesting and other field operations requirements, also can be used as a fixed power operation and short-distance transport operations.
·According to the requirements of operation more convenient and labor requirements, move back and forth adjustable seat, make your driving more comfortable, more efficient work.
Wheeled Tractors Technical Specification
Model

Part Name

TNC1104

mmOver size(length×width Xheight) mm

5120×2218×3105

5120×2218×3105

5120×2218×3140

5120×2218×3140

kg Min. operating weight (kg)

6125

6125

6325

6325

Type

4×4 4WD

Engine

LR6M5U23/0810E

LR6M5U23/0882E

LR6A3ZU23/0956E

Rated power (kW)

81

88.2

95.6

103

Rated speed (r/min)

2300

2300

2300

2300

2300

clutch

Dry, monolithic, often joint, 350 single-acting clutch, power, pedal manipulation

Shuttle-type Gearshift F/R

(1+1)×(5×4)type of options when crawling to(1+1)×(5×4)×2component type, with reverse speed limit, basic is 20 + 15 r, f optional crawl to 40 f + 30 r file; Helical and spur gears, synchronizer and meshing swap file, main and deputy speed for manipulation

steering system type

Independent oil, hydraulic steering, front wheel steering

Wheelbase (mm )

2718

2718

3080

2718

1650、1760、1778、1862、 1650、1760、1778、1862、

Rear (Stepless adjustment) mm

1650 ~ 2368

1650 ~ 2368

1650 ~ 2368

1650 ~ 2368

Power output shaft type

Post and independence

singlespeedpower outputspeed

760/1000or540/1000

Tillage depth adjustment method

position、height responsible system

Hy drauliclifting systemtype

separated unit

suspension type

Class Ⅲ

Class Ⅲ

Anti tipping frame / cab

Safe driving room

chair

Adjustable seat

The weight before / after (film)

Theweightbefore/after (kg)