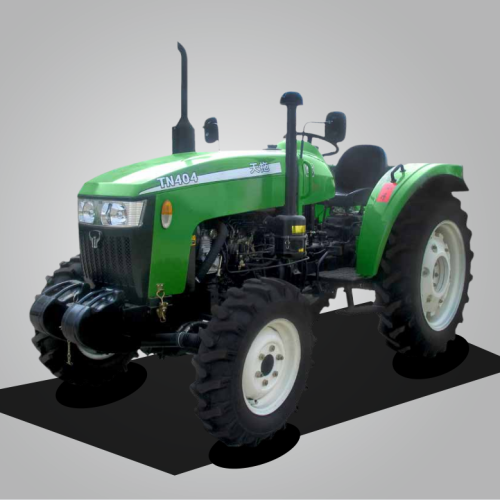 TNC304/TNC404 Tractor Agricultural Machinery Farm Equipment Tractor
Item specifics
GREEN

DARK GREEN
IRONMAKE

FOUR WHEEL
SMALL HORSEPOWER

MEDIUM HORSEPOWER
BRAND

Arable Bull/OEM
Description
Features of TNC Tractor Series
·This series of tractors covers seven main engine models of 65, 75, 80, 85, 90, 95 and 100 horsepower, and there are various configuration models to choose from. Standard 12 forward gears and 6 reverse gears, transmission case
And the power output adopts the gear shifting of the meshing sleeve, and the gear can be shifted smoothly without stopping, and the operation is lighter and faster. It can meet various complex agronomic requirements, and there are more optional agricultural machines, which have better farming performance.
effects and higher economic benefits.
·With a safety start switch device, the tractor can be started only when the main transmission lever is placed in the neutral position, which completely eliminates the unsafe hidden danger caused by starting the tractor without removing the gear.
It has a forced pressure lubrication system, and the lubrication and oil supply method of the transmission system adopts forced pressure lubrication, which forms a uniform oil surface protection layer on the friction surface with heavy load and high relative movement speed,
The gears and bearings running at high speed are better protected, the performance is more reliable, the transportation and chemical system is better, and the heat dissipation is faster.
Equipped with a differential interlocking device, when the differential coupling sleeve is separated, the speed of the two wheels will be different, so that the tractor can turn freely, and when one driving wheel slips, the differential can move the left and right halves
Axle connection, allowing the rear drive wheels to generate more traction on slippery ground to get out of trouble.
·Adopt three-point suspension, type II connecting rods. The tillage depth adjustment methods are force adjustment, position adjustment, and force-position comprehensive adjustment. The rear suspension system with fixed pull-down rods and stabilizer pins is adopted. The suspension rods have
It has a height adjustment function, and the rear suspension has a strong lifting force.
·Enlarging the heat dissipation area of the oil radiator and water tank, the function is more excellent.
Wheeled Tractors Technical Specification
Model

Part Name

TNC304

TNC354

TNC404

mmOver size(length×width Xheight) mm

3200×(1300 ~ 1460)×1930

3200×(1300 ~ 1460)×1930

3292×1435×1455

Minimum operating weight kg

1400

1800

1825

Type

4×4 4WD

Engine

4TE35A

JD4B4M2

Ra too sd power (kW)

22.1

25.8

29.4

Rated speed (x/min)

2400

2400

2300

clutch clutch

Single chip, single action

GearboxShuttle-typeGearshiftF/R

(4+1)×2

(4+1)×2

(4+1)×2

steering system type

Mechanical steering

Front wheel? Rear wheel

6.00-16/9.5-24

7.50-16/11.2-24

7.50-16/11.2-28

Wheelbase mm Wheelbase (mm)

1750

1935

1896

The front track can be adjusted in steps nmExont (adjustable mm


1050、1250(optional)

1200、1300(optional)

1200、1300(optional)

Rear track stepless adjustment umEesx(&tealesaadjustment) mm

960、1060、1120、1220

1150、1250、1350、1450

1150、1250、1350、1450

Power output shaft type

Post non independent

singlespeedpower outputspeed

720

540/720 or 540/1000

540/720 or 540/1000

Tillage depth adjustment method

height & position

height &position

Hy drauliclifting systemtype

partial sepaxated unit

suspension type

3-point linkage

Cab Anti tipping frame i cab

/

chair

Before and after adjustable

Theweightbefore/after (kg)

48/140

48/160

48/160

Air brakeAir brake

Air brake and traction hook tools